NOW AVALIABLE ON DVD
The Gunslingers

​The Gunslingers is a sharp shooting, gun slinging, stylized western exploring the sometimes hilarious intersection of lust, greed and money. Butch (John Elliot) is a bounty hunter who just wants to get paid an honest amount for an honest day's work; his chattel, morally corrupt Rattler Fenton just wants to cash in on his well hidden and – to hear him tell it – hard won gold. As Butch navigates an increasingly magical West in search of payment he is joined by a quirky band of outcasts and outlaws –including beautiful, ferocious Akemi (Narisa Suzuki) - and terrorized by the entirely evil but not entirely human Mondego gang. Good and Evil collide, as both heroes and villains alike are enthralled by the Ecstasy of Gold.

Jason Leyva as Charlie Chavez
To Purchase A Copy

Click Here
---
---
---
There's a secret arms race for human potential, as genetic engineers scramble to create the formula that will unlock "posthuman" powers. The first posthuman finds himself unable to control his newfound abilities which leads to explosive results. The consequences of which have an effect on five teens in the area who receive a genetic boost beyond anything they'd ever imagined. The five race against the clock to find out the secret of these powers, and to unleash the true power that lies within themselves.
Jason Leyva as Uncle Billy
For more Info
Blissfully unaware that Atlantica Flight 1945 from Atlanta to Amsterdam is about to make aviation history, First Officer Danny McSweeney focuses his energies on navigating the turbulent personalities of an eccentric female captain, a co-pilot with a talent for tactless comments and conspiracy theories, and a lead flight attendant with an out-sized attitude that definitely exceeds the limits for carry-on baggage. On the other side of the cockpit door, the unscheduled in-flight entertainment includes a potbellied pig, a jittery diamond courier, and the recently jilted Lucy Meredith, whose personal mantra of "What Would Oprah Do?" will be challenged by the sudden appearance of her ex and his new traveling partner. On her left sits Hank Hazard, whose unusually polite but constant requests-prompted by his covert role as a spy for the airline-test the limits of the crew's customer service. But as Lucy and the rest of the crew discover, Hank's odd behavior is linked to a quiet faith that may play a key role in the fate of everyone on board. Especially when an unexpected traveler sets this already bumpy flight on a course toward the unfriendly skies.
Jason Leyva as Miles Smith
For more Info​
L.I.P. Service is proud to announce the new 2016 season of theatrical productions! This season promises to be one of the most ambitious undertakings to date and will mark the 5th Season our award winning company will bring live theater to the DFW area.
Call 817 689 6461 for additional info.


Get your
​Season Tickets
​ TODAY
​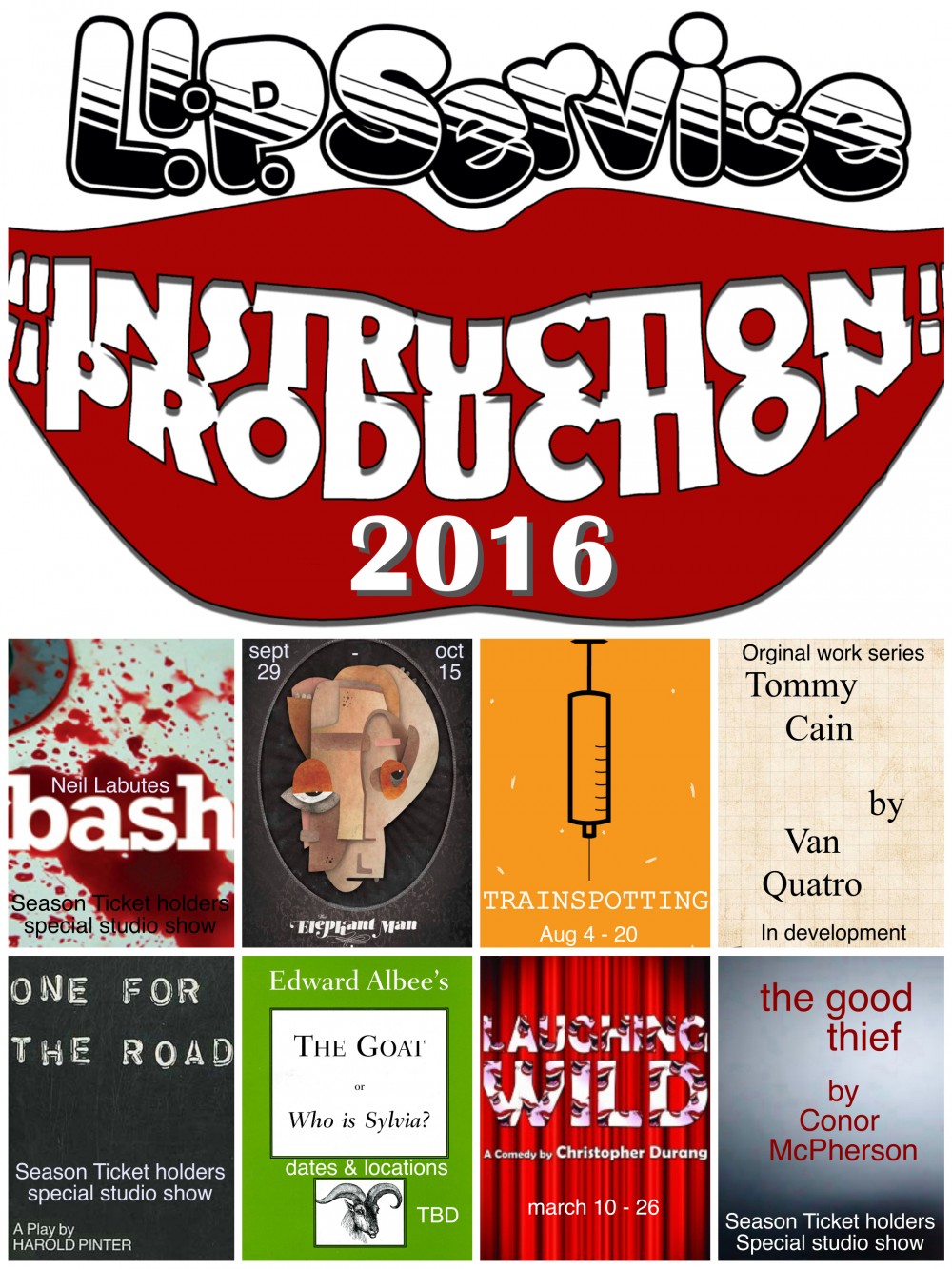 Season Ticket price will
increase Feb 1. So...
Get your $50 SEASON TICKET TODAY!​​​​​
Special Studio Series Shows
are available to season ticket
holders only, so don't wait......
Order yours TODAY​​​​​
LAUGHING WILD
TICKETS NOW
ON SALE​​